6 Skincare Jargons to Help You Pick Better Skincare Routines
by Herb Island India Admin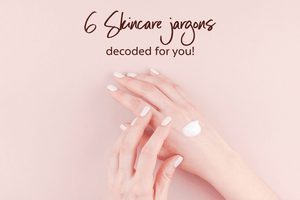 The skincare world has become a maze with a new product launch on every turn. And with every newly launched product comes a new vocabulary used by beauty bloggers every day. Very often we hear them saying, "new exfoliation method", "fights pigmentation" or "infused with the heavenly fragrance of rose" but we don't fully understand it. We only nod in agreement without realizing the meaning of words in context to the products we are thinking of buying. Moreover, the use of those skincare jargons and the related process can lead to reversing effects if your skin doesn't accept the same.
Skin Care Jargons to Get Better Skincare Routines
So, let's understand each word with their meaning in the context of skincare.
1. Save yourself from "pigmentation"
The dictionary defines pigmentation as discolouration of the skin. But do you know that there are types of pigmentation from which you might be suffering? Birthmarks, skin rashes, skin infection, freckles, and dark skin patches are types of pigmentation. Out of these pigmentations, some require immediate medical attention except, dark skin patches. Luckily, discoloured skin patches are treatable at home with natural skincare products. So, you should probably stock up some of them today.
2. Exfoliate, exfoliate and exfoliate
Normally, we use exfoliation and scrubbing interchangeably but both words mean different things. The former is a method to shed off the dead skin cells through various techniques such as washing face with a cleanser, by applying masks or peel-off masks and scrubbing. Yes, scrubbing is one of the ways to exfoliate. When you search for the word, you will find that the literal meaning of scrubbing is rubbing a part of the skin with a brush and water. So, the next time you exfoliate, do remember to pick the right technique which suits your skin.
3. Immerse yourself in the "emulsion"
The word emulsion has been thrown together with the k-beauty regime but no one seems to understand the meaning. Basically, an emulsion is a water-based hydrator which is light in weight, non-sticky, and have a quick-absorbing power. Moreover, if you have oily skin, an emulsion is a perfect hydrator to lock the freshness.
4. Your holy skin ritual - "detoxification"
We all detoxify our facial skin every week through popular masque without realising the term itself. Detoxification means removing harmful substances from the body. And this word is mostly paired up with spa treatments which is correct. But detoxification of the skin at home is also possible through activated charcoal masque which removes all harmful elements from your face.
5. The ultimate skin protection of an "antioxidant"
We know antioxidants act as the magic potion which reverses the skin ageing process. But we never care to understand the term itself. Basically, an antioxidant is a substance which protects the outer layers of skin by decreasing the production of free radicals. And free radicals are your skin's enemies which cause sunspots, and discolouration of the skin, leading to fine lines and wrinkles.
6. Powerful herbal method - "decoction"
The decoction is more of a medicinal preparation than skincare. In simple language, the decoction is a method to extract the helpful properties of a plant or root by boiling the hard plants or roots. And when you see this word used in context with skincare products, it simply means the herbs have been boiled to obtain the final product.
Conclusion
That's all ladies, we had these skincare jargons to explain. But if you know any word that we missed here to explain then let us know by getting in touch with our social media profiles.
latest
Islanders' Favourites