Get your Skin Summer Ready with French Green Clay
by Herb Island India Admin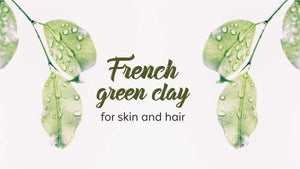 Sunny summer is finally upon us, India can't escape from the scorching heat and the damage it does to the skin. After the series of rubbing heavy winter creams day and night on our precious skin, there comes a sudden change in moisture and temperature of our surrounding. No one can stop this nature's course and we need to face cruel summer heat as we go on with our heavily scheduled daily life. Thankfully, nature also blesses us with protection in many forms every season. It is a season we just shouldn't quench our thirst with fruity flavour of french green clay but we should pour lots of love and care on our suffering skin and hair as well. For beautiful us, the elements come in different shapes and peppy colours such as wild fruits, berries and minty freshness.
One of those wonderful fresh colour – French Green Clay provides a fresh and young essence of purity when added to our beauty regime. The French Green Clay powder is collected from regions of Europe and holds detoxifying properties with a unique blend of minerals. We at Herb Island import this nature's magic to produce small batches and turned into a series of natural products.
A Kiss of French Green Clay
You might have used the French green clay products with "not so harmful chemicals" but the real beauty emerges with the rawness of this natural beauty ingredient. It was quite a challenge for our beauticians in Australia but they came up with French Green Clay Face Wash without losing the raw beauty for which it is popular for.
The heavenly fragranced extracts of Mulberry and India's favourite Aloe Vera blended with French Green Clay helps control the access oil of face and illuminate the face for a whole day under the warm sunlight. The magnesium, zinc and iron present in French Green Clay work as an exfoliating fairy. To be rid of summer dirt on the face while the Aloe Vera and Vegetable Glycerin soothes your skin and kiss your face to a fresh purity instantly.
The Touch of French Green Clay
To wash away the smelly sweat due to scorching sun, the same French Green Clay is blended with Aloe Vera Juice, Licorice Extracts and Hibiscus extracts in French Green Clay body wash.
Summer requires double the dose of exfoliation and the daily touch of French green clay deeply cleanses your body and blended mulberry extract let your body bloom with a refreshing and rejuvenating fragrance for the whole day. The hydration by truly homegrown Aloe Vera lasts all day and keep your body skin anew.
The Softness of French Green Clay
How can our holy beauty ritual be completed with frizzy and rough hair? The conditioning our hairs screams for and hydration they cry for during summer is fulfilled with French green clay hair conditioner. We all adore shea butter for its smooth properties and we surely added a bunch of that with green clay. The shea butter with Aloe Vera Juice help you shine your smooth hair under the sun. A blend of natural home-grown oil locks the hairs' freshness for a whole day while giving it a light bounce with no sign of frizziness.
Conclusion
Lastly, we love nature and we always thrive to find a new opportunity in providing you with natural beauty products without destroying the nature itself. With almost no sign of chemicals in every nature's bottle of Herb Island, we give you a sustainable solution through fresh homegrown ingredients.
latest
Islanders' Favourites