Why Should You Use Organic & Natural Care Products?
by Herb Island India Admin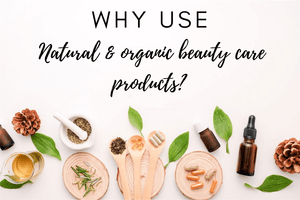 Skin and beauty care products are always in use in your daily life. It includes entire time of morning to night before you go to bed. After waking up in the morning you wash your face, apply some products whether it is a skin toner, facial serum, moisturizer or sunscreen. Moreover, while taking a shower, you use shampoo and conditioner for your hair, soap on the body. Then you probably use a body lotion too. In other words, every day you are using various beauty products on your face, hair & body. Your skin is soaking every ounce of every product you apply, thus the ingredients inside of those products can go into your bloodstream travelling through the organs and other body parts. In fact, some studies say chemicals from beauty products can be found later in the urine.
What Research & Surveys says?
For a long time, multiple brands offering an array of beauty and skincare products, packed with a bunch of chemicals that health advocates state could be related to countless health complications. In fact, according to research conducted in the US, around 10500 chemicals are found in personal care products. Another survey states, almost 80% of 12500 personal care products contain multiple toxic chemicals. Renowned and worldly known brands use chemicals actives in their beauty range. According to an article in a newspaper, trace amounts of asbestos were found in cosmetics by a reputed brand, denoting the loophole in skincare product safety.
To stay safe than be sorry, consumers have started being aware of the ingredients in the beauty products they use. 65% of cosmetics consumers want to know information about the ingredients whereas 72% seek explanations about product benefits.
Is there any way to save our skin from harmful chemicals and get the nourishment and care that it deserves? Of course, there is. Choose natural care products.
In fact, so many people around the world are choosing natural beauty products over harmful chemical cosmetics, that the global market value for natural cosmetics is expected to grow up to 54.5 billion dollars (approx.) by 2027.
Today's post is all about natural beauty products. Here you will get to know what they are, what are their benefits, and why you should immediately switch to these products.
Highlight on Natural & Organic Beauty Products
As the name suggests, natural beauty products are sourced from nature, derived from plants, minerals, and/or animal by-products.
On the other hand, organic beauty care products are derived from ingredients that are organically farmed. There is no use of pesticides or chemical fertilizers in the preparation and growth of those ingredients.
Now the question is why you should choose natural and organic beauty products over chemical-based skin care products. Well, the reasons are many. To give you a clear notion, let's first talk about the harmful effects beauty care products derived from chemicals may have on your skin & health.
Effects of Chemical Based Beauty Care Products
Chemicals, like Parabens, Phthalates, Triclosan, Sodium Sulfate, Propylene Glycol, etc., cause many health problems.
A. Lead to Deadly Diseases
One of the most alarming threats that you may experience from excessive use of chemical-rich beauty products is cancer. Mainly parabens used in cosmetics cause cancer. Other than this, aluminium in cosmetics causes anaemia and glucose intolerance. Barium Sulfate increases the chance of organ failure. The chemicals, especially used in talcum powder, are the main cause of lung tissue damage.
B. Damage Reproductive Organs
Chemical-rich talcum powder, if inhaled, can run through your reproductive system, affect the menstrual cycle, and cause other imbalances. Parabens and Phthalates disturb reproductive hormones and even lead to infertility. These chemicals can cause vaginal infection as well. And above all, direct contact of such bad quality products to your organs for a long term can cause prostate and ovarian cancer.
C. Cause Skin Allergies
Antiperspirant body sprays contain alcohol, thus they can cause skin irritation that eventually leads to skin pigmentation and other complications. By constantly blocking your sweat glands, these products can cause dermatitis and severe allergies. Allergic reactions on the skin can happen from some fairness creams and sunscreen lotions too.
D. Increase Hair Problems
Prolonged use of hair care products, containing preservatives, harmful chemicals like sulphates, parabens, alcohol, etc. damage hair. They affect hair quality and cause hair fall, dandruff, hair thinning, scalp irritation and similar complications.
E. Damage Skin & Nail
Continuous and excessive use of nail paints weakens your nails and lose their natural colour. On the other hand, some chemical-rich beauty products clog skin pores, cause acne and blemishes, help skin lose its natural moisture, develop dark patches and wrinkles.
Now let's talk about the benefits of natural products that are committed to taking care of the skin inside out.
Benefits of Natural & Organic Beauty Care Products
When you give your skin the right nutrients, your skin will be healthy and glowing. Natural and organic beauty products are something that can help you achieve beautiful healthy skin. Here are some benefits of natural beauty products:
i) Chemical-free
Beauty products, sourced from natural ingredients, are free of harmful chemicals. Therefore they are safe to use, causing no serious health hazards.
ii) Ensured Purity
Natural skincare products ensure purity. They are enriched with essential vitamins, minerals, probiotics, and botanicals that boost the healing and restoration process of the skin.
iii) Environment-friendly
Unlike Chemical-based beauty products that have a negative impact on the environment, natural beauty products are completely biodegradable. They don't harm the environment even during their manufacturing process.
iv) Suitable for All Skin Types
There are multiple natural ingredients that make organic beauty products perfect for all skin types. This skincare range has different products, dedicated to different skin types. Even sensitive skin can also benefit from these products.
v) Value for Money
Natural beauty products can be more expensive than some cheap chemical-based skincare products. But when it comes to giving your skin the best nourishment it deserves, you should choose natural. It works as a long term investment for your skin as well as your healthy being.
vi) Skin's Best Friend
Nature-based herbal beauty products and organic skincare range offer complete skin nourishment. They reduce the chance of premature ageing of the skin, keep moisture balance, and give a perfect glow. But what makes natural and organic beauty products so beneficial to the skin? They have an array of natural ingredients like oils, nut butters, extracts of fruits, herbs & other botanical ingredients that work wonders.
Let's have a look at 6 most commonly found ingredients in natural beauty care products.
Useful Ingredients in Natural Beauty Products
1. Oil
Cottonseed oil, Coconut oil, Argan oil, Avocado oil, Grapeseed oil, Tea Tree oil, Rosemary oil, Olive oil are some very useful oils commonly found in many natural skin and hair care products. They are highly moisturizing, rich in vitamins, and have antibacterial qualities.
2. Fruits & Vegetables
Berries, tomatoes, oranges, apples are some commonly found fruits and vegetables used in natural skincare products. They act as natural skin brighteners and moisturizers.
3. Rose Water
Rosewater is a holy grail essential in treating acne, soothing irritated skin, moisturizing dry skin and rejuvenating mature skin.
4. Aloe Vera
Aloe Vera is good for healing skin inflammation, sunburn, and wounds.
5. Sandalwood
This is great for treating skin breakouts and irritations. Mixed with almond oil, sandalwood works wonder in skin nourishment.
6. Sea Salt
Sea salt works best as a facial scrub. It cleans off dirt and makes skin rejuvenated.
Final Thoughts
Outer beauty comes from inner health. The more nourishment you provide to your skin, the better it glows. It's time to say goodbye to chemical and toxic elements for feeding your skin. Choose natural, organic and herbal products to take care of your skin & let it breathe.
Remember, not all brands are genuine and offer completely natural products even after claiming to use natural ingredients. You need to be aware of the ingredients, research brand before trusting and check the product label before buying.
latest
Islanders' Favourites