Step by Step Guide to Do Spa like Facial At Home with Natural Vitamin C Facial Kit
by Herb Island India Admin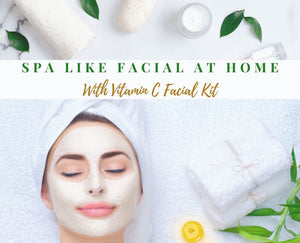 Who doesn't love to have younger looking, firm, and radiant skin? Following a habit of daily skincare routine can surely help you maintain fresh and healthy skin. But to add that extra radiance and firmness, you must opt for facial treatment on a regular basis with our natural vitamin C facial kit at home.
Gone are the days when facials used to be considered as a luxurious beauty routine and people used to do it before any special occasion or when on a spa weekend. It goes without saying that dishing out big bucks for availing professional facials at a luxurious spa is no more needed to take care of your skin. Now you can do a natural facial treatment at home and get the right amount of glow and radiance on your skin. Such a facial at home using the right products not just is affordable and accessible but also encourages you to include it in your regular skincare routine.
So do you want to bid adieu to dull and flawed skin and welcome radiance and flawlessness to your skin tone? Then opt for natural face treatment kits. And when it comes to going natural for your skin, what can be the best than Herb Island's skincare range!
Herb Island has launched Vitamin C Facial Kit to help you do your facial by yourself with completely natural products.
Herb Island's Vitamin C Facial Kit - Nature's Goodness for Perfect Spa-like Facial at Home
Gift your skin brightness, glow, and youthfulness with the goodness of vitamin C. Herb Island's Vitamin C Facial Kit is the right choice for experiencing natural facial at home.
Powered by skin brightening and anti-aging therapy with expert assistance, this product is considered as one of the excellent all-in-one natural skin treatment kits, helping your skin maintain its elasticity and stay glowing. With this kit, by following a few simple steps, you can do your own facial at home and give it the love and nourishment it deserves.
All the products in this kit are enriched with 99% active Vitamin C, extracted from orange, lemon, and Ethyl ascorbate. Other ingredients in these products are also completely natural, free from parabens, sulfates, petrolatum, mineral oil, and paraffin wax.
Have Glowing Skin at Home in 7 Steps
By following these seven steps you can get spa like facial at home. Use herb island's vitamin c kit and follow these 7 easy steps.
Step: 1 Cleansing
Cleansing the face thoroughly removes makeup or any dirt from the skin. So this is the first and foremost step to follow while doing facials. Use Herb Island Vitamin C Deep Pore Cleansing Milk, an excellent natural face cleanser, to gently clean your skin. Massage it with a gentle circular motion with your fingers on your face and neck for a few moments. Then remove it with damp cotton or washcloth. After that, wash the whole face with normal or lukewarm water.
Step: 2 Scrubbing
The next step is to exfoliate the dead skin cells and remove impurities from deep skin pores. To do this, use Vitamin C Gentle Exfoliating Face Scrub. Apply pea-size amount facial scrub on damp skin, rub it gently all over your face and neck for around 2 minutes in a circular motion. After that, wipe off excess product with damp cotton or washcloth.
Step: 3 Massaging
A facial will be incomplete without a massage, and the truth is, this is the most relaxing part of the whole process. You must not skip this step because a proper facial massage improves blood flow and muscle tones, reducing fine lines and helping the skin maintain its firmness and brightness. Massage your face and neck with Herb Island's Vitamin C Massage Gel in upward motion gently for around 5 minutes. To get the best effect, you can also add 3 drops of aromatherapy essential oil to the massage cream. Use the fingertips of both hands to give the massage properly. After 5 minutes, wipe off the excess cream with damp cotton or washcloth.
Step: 4 Applying Masque
After finishing the massage, now your skin needs nourishment and moisturization. Herb Island offers a completely natural face masque that helps you enjoy a few minutes of relaxing time while taking all impurities out from your skin and giving its glow back. Take an adequate amount of Vitamin C Glow-boosting Face Masque and apply it on the face and neck. Wait for 15 minutes till it is semi-dry. After that, rinse it off with normal water and pat the skin dry. Don't forget to moisturize your face after the process. Pick one from Herb Island's natural face moisturizers range.
Step: 5 Using Serum
Vitamin C Brightening and Anti-aging Serum is a lightweight formula that gets absorbed into your skin quickly and does not leave any sticky effect after application. Applying this regularly stimulates your skin's collagen production and gives brightness. After washing off the face masque, apply a few drops of the face serum all over your face and neck area. Wait for 2 minutes before moving on to the next step.
Step: 6 Use an SPF Lotion
Herb Island's Vitamin C Facial Kit contains Vitamin C Glow Protecting SPF lotion. You can apply it on your face and neck after facial to protect the skin from UV ray exposure, dust, and pollution. It does not only add a protective layer to your skin but also gives the skin a healthy glow.
Step: 7 Protecting with Face Toner
Last but not the least, applying a natural face toner is important to add an additional protective layer to seal the facial treatment. Pick a toner from Herb Island's natural face toner range, apply a small amount of it with a cotton pad all over your face and neck just after completing all the steps of the facial. It will restore your skin's pH balance and binds the moisture to the skin.
Pro Tips for Doing Facial at Home
Here are a few things you should follow while doing a facial at home.
Create a Calm Atmosphere for Yourself
Sitting in a calm atmosphere is important while doing facial. You can also play soothing music in the background. Having a facial in a calm atmosphere helps you become stress-free and get the best of the treatment our kit also contains an aromatic essential oil to provide soothing and relaxing experience.
Keep Everything You Need Ready Before Starting Facial
Keeping all the products needed for facial handy is important. This way, you will not forget any single step and complete the treatment with efficiency.
Avoid Eye Area
While doing facial, avoid applying or massaging any product around the eye area. The skin around the eye area is sensitive. So, rubbing or massaging any beauty product around it may cause fine lines and wrinkles.
Don't Apply Make-up Immediately After Facial
Using makeup just after the facial is strictly a no-no. Let your skin breathe for a few hours and get rejuvenated by the products you have used during your facial.
Try Giving Yourself a Facial Every Week
Herb Island's Vitamin C face treatment kit includes completely natural products. Thus having a facial with these products at least once a week is perfect to keep your skin healthy and glowing.
In the future, we, at Herb Island, will bring more natural skin treatment kits for you. We are here to pamper your skin with nature's goodness in various forms.
Final Thoughts,
Natural facials can give quick results without any chemical conditioning. Herb Island has invested to give you the best natural skin care treatment with its wide range of chemical-free products. So, sit back, relax, and let our natural face care products do the wonder on your skin.
latest
Islanders' Favourites