Moisturize your Body Instantly with Natural Body Yoghurt
by Herb Island India Admin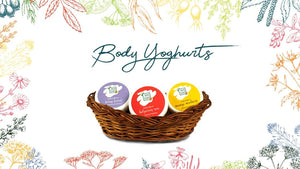 In our fast-paced life, we seldom get a chance to spoil ourselves and pamper our skin. The only way to groom and get the desired natural beauty is through the heavily priced salon and massage services. Of course, that routine places us in a peaceful state of mind and leaves our body rejuvenated. But let's admit, it does not last long. Maintaining natural beauty requires a daily ritual, which can prove to be expensive. What we really need are moisturizing products like body yoghurt that are both easy to afford and apply.
One of that on-the-go product found in every woman's closet is a simple moisturizer. Majority of women use moisturizers every single day. However, despite using it on a daily basis, we go wrong more often than not. Most people apply their body lotion on damp skin and the traditional moisturizers leave a sticky thick layer. And then there are those moisturizers that we keep on reapplying throughout the day but our skin still dries off in a matter of hours. It's a little annoying, isn't it with all this stickiness, lack of it and fast-moving life, an innovation was necessary.
Luckily, mother nature has always provided us with elements to experiment with to discover new ways to live life easily. But not all of us know how to make the most of it, and that is where Herb Island comes in. The brand works closely with nature to offer the best of those earthy elements and this time we created a homegrown body yoghurt. A body yoghurt with quick-absorbing power leaves your skin supple, soft and refreshed minus the stickiness and reapplication.
What is Body Yoghurt?
Body Yoghurt by Herb Island is a new hydrating and moisturizing product with a light texture and no greasiness. It gets absorbed into the skin in just 15 seconds and is quite therapeutic. This quick skincare routine by Herb Island is for people who are always in a rush and are tired of the sticky feeling and thirsty for some real body moisture. The body yoghurt's base ingredients are like aloe leaf juice, shea butter, vegetable butter, sunflower oil, wheat germ oil, olive oil, coconut milk, and aqua creates a gel-like consistency which provides hydration.
Why Body Yoghurt?
The effects of body yoghurt are faster than any other body moisturizer and soften your skin for up to 48 hours regardless of the weather condition. The fast-absorbing formula works wonders even when your skin is damp. It enters deep into the skin without and smoothens your skin instantly. Also, we wanted to give you a personalized experience based on your skin type. As we have different personalities, we also have a skin type which is unlike anyone else. So, we created these three blissful body yoghurts to match your skin's needs.
1. Mango Madness Body Yoghurt
Herb island's natural mango madness body youghurt contains real mango butter, fenugreek milk, and other base ingredients which soothes your skin in summer and leaves a cooling effect on the tanned skin.
2. Bulgarian Rose Body Yoghurt
One of the most favoured flowers are roses, and the goodness is infused in this Bulgarian rose body yoghurt to stop time for your skin and make you look younger. The hibiscus infusion adds a twist to the scent and helps your skin bloom like a rose.
3. Berry Fusion Body Yoghurt
The extracted mulberry, bearberry, chamomile, calendula, and pomegranate smoothen your skin, reduces the irritation, and fresh grape juice provides moisture all over the body. This rich berry fusion body yoghurt gives you a natural glow every day.
These body yoghurts are pocket-friendly, versatile, rich, and vegan, and add the much-needed soft touch to our skin, irrespective of the season. Once you use it, body yoghurt by Herb Island will take a permanent place in your closet.
latest
Islanders' Favourites