Hydration & Moisturization
by Herb Island India Admin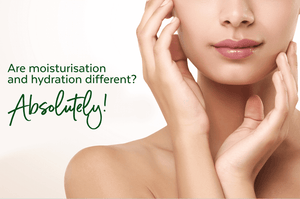 Boost your skin hydration game with quick and easy skincare methods
Every season our dresser gets piled up with various moisturisers which we think save our skin from the changing weathers. Whereas in reality, only winter skin calls for extra moisturisation. And for the rest of the seasons, what our skin really needs is hydration. It is often asked, "Is there any difference between moisturisation and hydration?" Absolutely and it's a well-kept secret by big skincare brands but Herb Island believes real care is to share.
While both words, moisturisation and hydration are used interchangeably, both serve different purposes when applied to the skin. Of course, both moisturisers and skin hydration products are for skin's long-lasting freshness but real difference depends on the skin type. As we know, the natural layer of the skin protects itself from sun and pollution damage. However, if you constantly suffer from dry and flaky skin, then it's time for you to befriend a natural body butter. The right body butter forms a thick layer on the skin and provides full protection from dry, humid weather. On the other hand, if you have normal to oily skin, then your skin will love the quick-absorbing power of water-based hydrators. Anyway, what's better than easy to apply skincare product works like a magic potion on your skin? The answer is nothing at all. The best way to apply a skin hydrator is by slathering it on the damp skin so that it locks up the freshness.
A quick tip while choosing a water-based skin hydrator:
Look for real juicy ingredients like grapes and berries to add a beautiful touch of aromatic experience after a soothing shower.
The right moisturising process is the key to healthy and naturally glowing skin. But when you want to keep that glow all day long, only daily morning routine of layering hydrators or moisturisers is not enough. Mastering small, daily skin hydrating methods becomes integral.
Drink water like it's your job
Did you know, a person should drink at least 3 litres of water every day. But as per the B-town news, everlasting beauties like Hema Malini and Rekha go the extra mile with 5-6 litres of daily water. So, let's not wait anymore to set up a water drinking reminder on your phone and flaunt that fresh skin.
Jump to a quick cool shower
After a long day, we often head for quick steamy showers, which in actuality is a big no-no to have a perfect skin glow. Having daily hot shower strips your skin off the natural oils leading to an extremely dry and dull complexion. Instead, hop into the shower for a cool sense of relaxation to wash over you followed by your favourite moisturiser or skin hydrator.
Wipe out the small hidden particles with water-based skin toner
Often, women tend to skip this essential skincare step in a hurry. But a quick cotton pad with aromatic skin toner does no harm. It actually adds an extra glow to your face and when you use an alchohol-free skin toner, it helps close pores, hydrate facial skin, and help remove dead skin cells if left any.
Have yummilicious fruits every day
The best way to hydrate your skin from inside (apart from drinking water) is by eating a fruit platter every day. The water-rich seasonal fruits like watermelon, muskmelon, tomato (it's a fruit, ladies), strawberries, oranges, peaches and many more revive your original skin texture while making it soft and smooth.
Another quick tip: If time doesn't permit eating whole fruits, have an on-the-go fruit mocktail made out of seasonal fruits.
Apart from these skin hydrating methods, women with extremely dry skin or sensitive skin should avoid perfumes, talcum powder, and alcohol-based skincare and beauty products because it can lead to more serious skin conditions. And last but not on the above list skincare method is opting for natural moisturisers or hydrator which your skin accepts wholeheartedly.
latest
Islanders' Favourites