How to Take Care of Skin in Summer – Tips for Skin Care
by Herb Island India Admin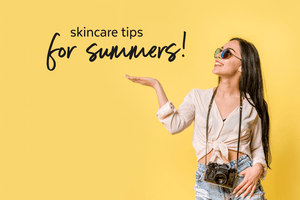 Besides Mangoes, Melons, Oranges, and Ice-creams; summer also comes with everyday rising temperature, heat and humidity. The warmth turns our skin's pre-active oil glands agitated. This ultimately ends up with extreme sebum around the T-zone, scratchy rashes, tanning and untimely signs of ageing. Herb Island's team has devised the perfect summer care routine for you, the do's & don'ts and how to choose right summer skincare so you can shine bright and healthy this summer. Here are some summer skin care tips to make your skin healthy.
Know What Causes Skin Problems:
1. Allergens:
The skin might come in contact with certain allergens or irritants which may cause skin problems. Skin infections could also be caused by coming in contact with another person who has a skin infection that could be contagious. Maintain social distance to stay safe from contagious allergies and keep track of personal allergen to avoid allergies flaring up.
2. Blockages:
Acne occurs when skin follicles or pores are blocked. This can happen due to pollution or dirt in the skin. The clogs are formed by oil, sebum, bacteria and dead cells that are clumped together. This causes swelling which results in acne and pimples. To prevent this you need to use a cleanser that deeply cleans your pores. Something which can remove dirt without drying out your skin. Herb Island's Calendula & Tamarind Cleansing Milk holds an exceptional blend of herbs that mildly remove dirt, makeup, and everyday scums while upholding your skin's natural moisture.
3. Lack of Immunity:
Skin issues like lupus are a result of a weakened immune system. Many skin conditions can also be a symptom of illnesses that affect the immune system, thyroid, kidneys, or other organ systems. It is recommended to have a balanced diet and increase the intake of immunity boosters suggested by your doctor.
4. Lifestyle Problems:
An unhealthy lifestyle like the deficiency of a balanced diet, stress or lack of exercise results in skin problems as well. Thus, it is wise to have a fixed routine for better life and skin health.
5. Microbes:
Skin infections like psoriasis, rosacea, and allergies can be caused due to microbial activities. Fungus, parasites, viruses and other microorganisms that are living on the skin cause certain infections too. Maintaining regular hygiene and using natural skin and hair cleansing products will keep you clean and avoid build up of microbes.
Kinds of Skin Problems in Summer
Summers give you a chance to flaunt your skin. Though, exposure to the sun rays and the pollution can harm the skin in many ways. Tanning, sunburn and blemished skin are among the major issues. Any negligence in summer skincare routines can damage skin's glow.
We will show you the natural & effective products for your summer skin care concerns. List of common skin disorders during summers and important skincare tips to prevent & heal these concerns.
i) Sunburn
Among the most common skin problems during extreme heat is sunburns. It is caused by exposure to extreme rays of the sun. The condition results in red, itchy and painful skin. When sunburn becomes extreme, it can cause blisters too.
Solution – Herb Island brings to you the Lycopene SPF 15 Lotion. This is a mineral sunscreen formulated with Zinc Oxide, Titanium Dioxide & Lycopene, which protects the skin from UV Rays and repairs the damages caused by the sun. Unlike other chemical sunscreens, this is made from natural minerals and will not cause any harm or skin reaction. It also moisturizes with the natural SPF 15 formula and leaves behind a soft, shiny and healthy skin. It is suitable for daily use, recommended to apply every two hours.
ii) Hyper Pigmentation
It appears in the form of darkened spots or uneven patches on the skin. It is caused mainly due to increase in melanin caused by many factors including sun exposure, skin inflammation, injury or heat rashes.
Solution– The best skin tips to prevent pigmentation are preventing skin irritation or inflammation. Herb Island's natural and organic Vitamin C Face Wash can be a solution to this issue. Vitamin C is a powerful antioxidant that helps to prevent skin damage by blocking free radicals. It gently exfoliates, giving your skin soft glow and brightens your skin.
iii) Heat Rashes
Blocked sweat glands are the reason behind heat rashes. The sweat will not be able to get out due to blockage and the built-up heat under your skin. This will cause rashes and tiny bumps. These bumps on bursting release sweat and irritate your skin.
Solution- Herb Island's French Green Clay face wash and French Green Clay body wash has a perfect balance required between ability to absorb excess oil while soothing your skin with its unique cooling effect and fresh ingredients like French Green Clay, Aloe Vera Leaf Juice, Mulberry, Licorice and Hibiscus. Each of these ingredients has its unique and divine qualities to give you an extraordinary skin care experience.
iv) Acne Breakouts
When the sweat, sebum, oil, and bacteria clog your skin pores this causes skin eruption, acne, and pimples.
Solution – Herb Island's Neem Crush Face Wash is the perfect choice to get clear skin. This daily use face cleanser prevents and controls acne breakouts with powerful combination of organic Neem Leaves, Basil, Turmeric and fresh Aloe Vera Leaf Juice. Keep your skin protected from pollution and bacteria build-up by using this facial cleanser at least twice a day. Avoid using oil-based products to that can be comedogenic to prevent acne breakouts in summer.
v) Folliculitis
When the follicles from which our hair grows become infected with bacteria or fungus, it is called folliculitis. Infected hair follicles look like pimples but they are tender and itchy.
Solution - To control folliculitis, one should wear clean clothes. Do not bathe in water treated with chlorine or acids. Wear cotton clothes in hot and humid temperatures to cut the chances of infections and maintain clean skin.
Summer Skin Care Tips to Beat the Heat
(a) Face Care
From the range of natural face care products available with Herb Island you should experience the definitive summer care treatment with the Vitamin C Facial Kit. This is a complete skin brightening & anti-ageing, at-home facial kit. It contains 8 different products involving 7 steps to cleanse, exfoliate, nourish, revive and protect your skin. This would for sure give you an amazing spa-like feel at home.
[B] Use Sunscreen
Sun's UV rays cause major damage to the skin. Thus, it is important to use sunscreen at least 20 minutes before going out. Herb Island's Lycopene SPF 15 Lotion can be used daily. It is a natural mineral UV sunscreen formulated with lycopene to give you additional UV protection. It works wonders in preventing your skin from tanning and darkening.
[C] Apply Body Yoghurts
Your skin needs moisturization & hydration even in summer, when we don't like to use heavy & sticky body lotions. Enter here the highly hydrating Body Yoghurts from Herb Island. They are very light-weight moisturizers that absorbs quickly, giving you soft & smooth skin without the oily, sticky feeling. Available in three refreshing variants; Mango Madness, Bulgarian Rose and Berry Fusion Body Yoghurt. 
[D] Use Face Masks
Herb Island's Charcoal & Kaolin Clay Face Masque is a blessing for all those who are looking for something that can detoxify their facial skin and give them oil-free matte skin. Organic Kaolin Clay and Activated Charcoal combine to give exceptional cleansed skin by soaking up excess oil and dirt. Charcoal also removes sun tan leaving your skin instantly bright & glowing.
[E] Summer Food is Cooling for Skin
The foods like cucumber, onion, watermelon, tomato, mint, and curd are all extremely cooling for the body. They also help in keeping skin healthy.
[F] Wear Breathable Fabric
Wear cotton clothes during summers. This helps in keeping the heat away. Avoid wearing clothes that are too tight, they can irritate or make the skin sweat. This can lead to rashes or even skin infections.
[G] Exercise A Lot
Workouts are great for the skin and one of the best summer skin care tips as it helps the body to produce more collagen that keeps the skin supple and firm. It also reduces the cortisol levels in the blood that might cause breakouts of collagen which may cause wrinkles or sag.
[H] Do Not Stress
If you take stress then the body starts releasing chemicals to protect the skin from the trauma that may cause conditions like psoriasis and eczema. The neuropeptides in the brain release the chemicals in the brain that regulates emotions causing skin problems.
Herb Island has left no stone unturned in bringing you the best of natural and organic face care products. With all its heart; it assures you about the quality of the products that you can rely upon. Hope this summer skin care tips may help you to get healthier skin in summers.
latest
Islanders' Favourites