Does Oily Skin Really Need a Moisturizer in Summer?
by Herb Island India Admin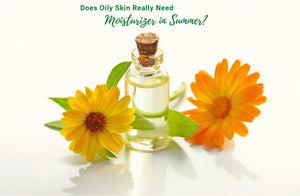 There are plenty of reasons to love summer, including school holidays, fresh fragrant flowers, long lazy days, afternoon wind, shower, the sight of beautiful birds and butterflies, etc. But one unpleasant thing that you cannot just ignore is what summer's increased temperature, rising humidity, and hazy weather do to your skin. Especially if you have oily skin, don't expect a friendly approach from this season. We advise to use moisturizer in summer season.
Due to the hot and humid weather, our skin's sebaceous gland produces more oil than usual, resulting in acne and other skin complications. Many people start using countless cosmetic products and following natural skincare tips for summers to protect their skin from this harsh weather. But what most people forget to give importance to is a moisturizer, assuming it will make the skin oilier. Are you among those people? Then this post will surely let you know why applying moisturizer on oily skin is important throughout a year regardless of what season it is.
Top Reasons to Apply Moisturizer during Summer:
Why is it important to use a moisturizer in summer for oily skin? Let's uncover the reasons.
1. UV Rays and Harsh Sunlight Damage Skin:
The harsh sunlight and UV ray exposure make skin lose its natural oil, leading to increased sebum production, breakage, fine line, and wrinkle. Regular application of face moisturizers protects the skin from harsh sun rays and keeps it plump and supple.
2. AC Makes Skin Dry & Dehydrated:
Summer is the time when we often find our escape in a chilled air-conditioned room. However, constant stay in an AC room makes our skin surface dry and dehydrated. Thus to keep the skin's moisture level intact, applying moisturizer is necessary.
3. Chlorine Water Affects Skin:
Dipping in a swimming pool is another wonderful escape on hot days of summer. But chlorine in pool water can damage our skin excessively. Therefore applying a good moisturizer is a must before and after swimming.
4. Skin's Moisture Level Loses Balance Due to Excessive Heat & Sweat:
In this season, throughout a day, we lose lots of fluids. Just like our bodies, keeping our skin hydrated is also important. Moisturizer can help in sealing the moisture in the skin which you lose because of sweating.
5. Pollution Hurts Skin's Barrier Function:
Pollution can damage the moisture barrier of the skin. Eventually, your complexion starts looking excessively shiny. Therefore you should apply moisturizer on oily skin as well.
6. Skin's Oil Glands Produce Excessive Oil:
Without a moisturizer, the skin's oil glands produce more oil to recompense the lack of moisture and result in breakage and many more complications.
When Should You Apply Moisturizer in a Day?
The right time to apply moisturizer during summer is after cleansing or bathing. The three ideal times to moisturize your skin daily are -
i) After Waking up in the Morning
Morning is the best time to hydrate and protect your skin by applying moisturizer on it.
ii) After a Shower
After having a shower to keep the moisture level intact to your skin, you should apply moisturizer.
iii) Before Going to Bed at Night 
Before going to bed at night you should apply moisturizer to repair and replenish your skin while sleeping.
Also, you should apply a moisturizer in summer after swimming to protect your skin from any damage caused by chlorine water. Every time you apply moisturizer, make sure it is completely clean. You can also use a toner after washing your face, and then use a light moisturizer for summer.
How to Pick the Perfect Moisturizer in Summer for Oily Skin?
When it comes to picking the perfect moisturizer for oily skin, always choose a light oil-free moisturizer instead of heavy cream. Make sure the moisturizer you choose is enriched with the ingredients that moisturize your skin without causing any production of extra sebum. You can also use a moisturizer with added SPF as a day cream while staying at home. At night, use a different but equally lightweight moisturizer that can hydrate your skin and replenish the moisture without clogging pores. Water-based gel moisturizer is also good for oily skin. It absorbs to the skin quickly, leaving a long-lasting moisturizing effect.
Best Natural Moisturizers for Summer
There are some of our best natural moisturizers for summer, which can make your skin nourished and healthy.
1. Lycopene SPF Lotion
This is a paraben-free Lycopene SPF lotion that you must have this summer. Considered as one of the best face moisturizers for oily skin, this lotion is enriched with completely natural ingredients, such as soya oil, lycopene, vitamin E, Indian gooseberry, glycerin, etc. Having a non-greasy formula, it protects your skin from harsh UV rays, hydrates and gives a healthy glow. Though this lotion has the best formula to keep mainly oily skin healthy, it is suitable for all skin types.
2. Papaya Tomato Lotion
When it comes to picking the best moisturizer for summer, here is another Herb Island product that you can try on. Our Papaya Tomato Lotion has an original blend of papaya and tomato, providing lasting hydration and nourishment to the skin. Other than these two main ingredients, this lotion is also enriched with coconut oil, olive oil, and beeswax which are considered wonderful moisturizing elements.
No matter whether it is a moisturizer for dry skin or oily skin, we, at Herb Island,  offer only natural products that can become the best friend to your skin in every season, at all the time.
Final Thoughts:
Oily skin needs hydration even in summer. Therefore applying moisturizer daily is important to make your skin hydrated and healthy. Picking the right type of moisturizer and following a daily routine of applying it is necessary to get the optimum benefits. With that being said, pick a moisturizer that your skin loves, use it daily, say goodbye to skin complications, and step out in the sun with glowy, youthful skin.
latest
Islanders' Favourites