Do You Know the Causes of Facial Redness? Get the Best Natural Facial Redness Treatment Products
by Herb Island India Admin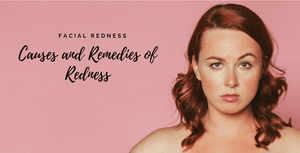 Have you found your face turning red and flashy recently? Does it cause any irritation or itchiness? If yes, then you are suffering from facial redness. It can appear for various reasons and if stay for a long time, may cause more serious underlying health complications.
The market is filled with many products, claiming to be the best in treating facial redness and making skin calm. But not all are safe to use as many among those are based on toxic chemicals.
Is there any Natural Facial Redness Treatment available? Yes, there is. But following only a single way cannot help you say goodbye to this skin problem. You need to follow quite a few things on a daily basis to protect your skin from redness.
Today's post will talk about those useful natural remedies to reduce facial redness. But before diving into that discussion, let's talk about the main reasons for this skin problem.
[A] Causes of Facial Redness
There are arrays of things that cause facial redness. You should be aware of all the reasons to stay alert of your own skin hazards and take better care. The reasons for facial redness are:
Dry & Acne-prone Skin:
Usually, oily skin is acne-prone. Excessive secretion of oil clogs the skin pores and leads to skin breakouts. And such skin breakouts cause redness. On the other hand, dry and sensitive skins can also have acne. When dry skin comes in contact with any external particle that clogs the skin pores, it causes acne, which eventually leads to breakout and redness. Excessive sun exposure without the protection of sunscreen also causes face redness.
Spicy & Fried Food:
Consumption of spicy food generates heat inside the body. This leads to skin redness and inflammation through blood vessels. Other than spicy food, cheese, caffeine, and hot drinks can also do the same to your skin.
Heat & Humidity in Weather:
Reddish heat rash affects the skin, especially in hot and humid weather conditions. This occurs when skin pores get blocked with perspirations. Symptoms can be blisters, irritation, and red lumps.
Reaction to Medication:
Some medications can cause an allergic reaction to your skin, especially when you are outside. Mainly antibiotics like penicillin, sulfa drug, and anti-seizure medicines can cause such kind of redness.
Poor Quality Cosmetics:
Poor quality cosmetics contain chemicals and toxic elements that are extremely harmful to the skin. They can easily cause itchiness and redness to all types of skin. Sensitive skin can get damaged severely by such kind of products. That is why you need to check the ingredients of skincare products.
[B] Best Natural Facial Redness Treatment Products
Now let's come to the solution. There are multiple ways you can keep face redness at bay. Take a look at some of the best Best facial redness treatment products from Herb Island.
I) Cleanse with Paraben-free Face Wash 
Parabens are very harmful to your skin & body. The application of this chemical daily can lead to moisture imbalance in skin, breakouts, and eventually redness. Therefore, you should always opt for chemical-free skincare options. Clean your face daily with paraben-free facial cleansers to keep the facial redness and other skin inflammation at bay.
II) Protect with Mineral SPF
Sensitive skin gets damaged easily in harsh sun rays. Therefore, it is important to use SPF lotion every time you step out of your house. Use herb island's Lycopene SPF Lotion having coconut oil, organic soya oil, glycerin, and cotton seed oil that deeply heals and hydrates your skin. Other than moisturizing the skin, it soothes itchiness and reduces redness.
III) Moisturize Skin with Soothing Ingredients
Keeping skin calm with moisturizers enriched with soothing ingredients is important. Gel-based face moisturizer is very useful for this purpose. Other than hydrating and deeply moisturizing the skin, gel-based moisturizers reduce skin irritation and redness. Moisturizers, enriched with aloe vera, chamomile, calendula, oats, etc., are also great for reducing skin inflammation and redness.
IV) Use Aloe Vera Gel
Aloe vera is another useful thing that soothes skin effectively. It has cooling and anti-inflammatory properties. You can use fresh Aloe Vera from the plant directly or use Aloe Vera infused cream, gel or ointment that keeps skin calm, reduces inflammation and revitalizes the skin. It is a completely natural treatment to boost skin cell production, fight inflammation, and protect skin from redness.
V) Take a Cool Water Bath
This is another effective natural and pretty basic solution for keeping face redness at bay. Face redness, when it gets severe, causes discomfort and sometimes pain. Taking a cool water bath or cold compress on the face provides instant relief to affected skin and eventually minimizes the redness. If there is any sunburn or allergic reaction to a product, you can still follow this method to get relief.
VI) Change in Lifestyle
Consumption of alcohol can cause facial flushing which means face turns into red. Difficulty in digesting alcohol causes this problem. To beat this problem, you should reduce consumption of alcohol and eventually stop completely. Consuming fatty and oily food on daily basis should also be prohibited if you want to avoid skin redness. Always apply sunscreen while stepping out of your house. Small changes in lifestyle can give you big benefits in return. To own healthy glowing skin, you should follow a healthy lifestyle because outer beauty comes from inner health.
You can bring changes in the food items you intake daily. There are certain foods that help in protecting the skin from being red and inflamed.
[C] What are the Best Foods to Prevent Facial Redness?
Following a healthy diet daily is always the right thing to do. It keeps you away from many health hazards. Especially if you have any facial redness due to any particular reason, choosing certain food items for daily consumption can help you get relief.
Instead of eating salty and spicy food, opt for green leafy vegetables, cucumbers, sweet potatoes and asparagus.
Spices like coriander, saffron, cardamom are also great to add in food preparation.
To calm blood vessels, eat melons, mangoes, and grapes.
The Bottom Line
Following a healthy lifestyle, using natural beauty products, and consuming the right food can help you protect your skin form facial redness. Doesn't it feel fantastic when you have healthy and glowing skin all the time! Skin redness can seriously act as an obstacle to achieving such beautiful skin. So, take the right steps and keep your skin free from inflammation and redness. Be beautiful.
latest
Islanders' Favourites