Best Natural Hair Shampoo and Conditioner to Get rid of Dry and Frizzy Hair
by Herb Island India Admin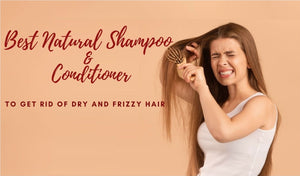 Do you have dry and frizzy hair problems? Well, you are not alone. These days many men and women are struggling with dry, frizzy, and damaged hair. Excessive pollution, unpleasant weather, and ill-treatment of hair are main reasons behind dry & frizzy hair. Human hair consists of three layers. When the natural oil present in the outer layer protects the inner layers, the hair becomes healthy. But when the outer layer breaks down, hair fails to get or retain moisture, and then the end result is the hair starts looking dull, brittle, frizzy and unhealthy.
Is there any solution? The answer is a big resounding yes. 
With natural hair care products, the right diet, and less use of chemical-rich hair styling products, you can say goodbye to dry and frizzy hair. In today's post, we will discuss how natural hair shampoos, conditioners, and other natural hair products, along with necessary lifestyle changes, can bring your dry and frizzy hair to life. But before diving into that topic, let's start the discussion by explaining the root causes of dry and frizzy hair. Keep reading.
Root Causes of Having Dry & Frizzy Hair
Various factors can cause dry hair. Here are a few of those
Washing hair with hot water can take away natural oil and moisture from the hair, resulting in a dehydrated scalp and frizzy hair.
Heat-producing hair styling tools, like curling iron, hair straightener, tong, blow dryer, etc. can give your hair a perfect look for every occasion. However, regular usage of these styling tools can cause serious hair damage, leaving you with dry and frizzled hair.
The market is filled with various hair care products, each claiming to be the best. But not all are enriched with natural ingredients. Many of them have harsh chemicals, sulfate, alcohol, etc. These products are extremely harmful to hair. Sulfate and alcohol dry up the hair, let it soak the humid air, and hence lead to frizziness and damage.
Washing hair daily can strip off the natural oil from the scalp, leaving both the scalp and hair excessively dry.
Other than above, spending time outside in a windy or polluted environment with open hair, swimming quite often in chlorinated water, dying hair etc. can also cause dryness and damage. To beat this problem and have healthy and shiny hair, you should opt for natural hair care products and lead a healthy lifestyle.
We, at Herb Island, offer you a completely natural hair care range that can perfectly take care of your hair. Let's have a look at these;
Best Natural Hair Shampoo
Herb Island's hair care range ensures you get long and healthy hair nourished by nature. Find out how the natural hair care range can help you get rid of dry and frizzy hair. Talking about natural hair shampoo, below are the five best natural hair shampoos for taking care of dry your and damaged hair without leaving any harmful effects of chemicals and pesticides.
Avocado & Argan Oil Shampoo with Banana Juice & Coconut Milk
As the name suggests, this argan oil shampoo has a perfect blend of Moroccan argan oil, avocado oil, banana pulp juice, and coconut milk. Other than these main ingredients, this product also has some more nourishing natural ingredients. The product deeply conditions hair, makes it smooth and frizz-free.
Fermented Rice Water with Onion Juice & Hibiscus Infusion
Rice water can penetrate dry hair and take care of it inside out. Moreover, onion juice and hibiscus extract not just nourish the hair but also promote its growth. This Herb Island shampoo, enriched with rice water, onion juice, and hibiscus infusion along with other vitamins, minerals, and protein-rich natural ingredients, prevents hair damage and makes it strong, nourished, and healthy.
French Green Clay Shampoo
This shampoo's main ingredient is french green clay. This mineral-rich natural french green clay shampoo reduces flakiness and dead cells from the scalp, leaving hair frizz-free, long, soft, and manageable. The best thing about this product is that it is a combination of natural hair shampoo and conditioner, locking moisture to hair and making it super smooth and shiny.
Exotic Flowers Shampoo
This shampoo is packed with exotic flowers extract, such as calendula, Echinacea, arnica, along with other natural moisturizing elements like aloe vera leaf juice, wheat germ oil, soy protein, and more. Washing hair with this antioxidant-rich shampoo will make the hair dandruff-free, soft, beautiful, and healthy.
Forest Berries Shampoo
Loaded with lots of vitamins and protein elements, this shampoo works wonder on dry & damaged hair. The forest berries shampoo protects hair follicles from damage, prevents the hair from becoming brittle and frizzy, and makes it super strong.
Natural Hair Conditioner
Herb Island offers three natural hair conditioners that make hair tangle-free and smooth. These conditioners are:
French Green Clay Conditioner
Infused with french green clay, shea butter, olive oil, and pea protein, this conditioner can do nothing but deeply moisturize hair, making it look healthy and beautiful.
Forest Berries Conditioner
This is a vitamin-rich hair conditioner, works perfectly on dry hair. It repairs damaged hair, protects it from dryness, and makes it soft, smooth, and shiny.
Exotic Flowers Conditioner
This flowers conditioner is a heavenly blend of exotic flower extract, protein elements, and antioxidants. Regular use of this conditioner keeps hair strands glossy and fabulous.
When it comes to choosing the best shampoo and conditioner that can make hair healthy without leaving any harmful side effects, you can trust Herb Island's products blindly.
Herb Island's Other Natural Hair Care Products
Below are some more natural hair care products by Herb Island for dry and frizzy hair.
Hair Serum
Besides shampoo and conditioner, you should also use hair serums to nourish dry hair and repair split ends. Herb Island's Moroccan Argan Oil Hair Serum is the perfect product to bring back life to dull, dry, and damaged hair. Having a non-greasy texture, this serum works as a protective layer on hair strands all day long from heat and pollution. You can use this regularly whenever going outside. Also, if you are using any hair styling tool, apply the serum on hair before that to keep the hair protected from possible damage.
Ayurvedic Therapy Hair Oil
Regular hair massage with good Ayurvedic oil can control dryness and frizziness of hair, making it soft, strong, and beautiful. Herb Island's Ayurvedic Therapy Hair Oil is a perfect blend of 5 oils and 12 essential herbs. Apply it on your hair from root to tip, massage gently, leave it overnight, and wash the hair with a natural hair shampoo the next day. Following this hair care routine will help you have long, voluminous, and healthy hair naturally.
Hair Vitalizer
The impact of flowers in turning dry and dull hair into shiny and lustrous is undeniable. Now you get flower extracts in a bottle as Herb Island's Flower Power Hair Vitalizer. Infused with fresh rose petals, chamomile extract, lemongrass leaves, macadamia oil, fenugreek milk, and essential oils, this hair vitalizer works wonder on dry and frizzy hair, reduces hair fall rate, and promotes hair growth.
All the above-discussed products are free from sulfates, silicone, mineral oil, paraben, and other harmful chemicals. Choose this natural hair care range, follow a daily hair care routine, and say goodbye to dry and frizzy hair forever.
Home Remedies to Tame Dry & Frizzy Hair
However, to get the best result and retain it, you should also opt for some home remedies and bring some changes in your daily lifestyle.
Use Hair Mask
From banana to honey, egg to avocado, mayonnaise to yogurt, almond paste to olive oil, there are multiple products that you can find at your home work wonders in moisturizing hair. Use those items on hair as hair masks twice or thrice a week, leave the mask for an hour or two, then wash it off with a natural shampoo to get the best result.
Apply Hot Oil Massage
Massage hair from root to tip with warm oil can nourish hair deeply and minimize protein loss. You can choose any natural oil, like coconut oil, olive oil, almond oil, etc. You can add one or two vitamin e capsules to coconut or olive oil and apply that to hair to keep hair breakage, split ends, and hair loss problems at bay.
Rinse Hair with Apple Cider Vinegar or Beer
Apple cider vinegar has acetic acid, which can make hair shiny and frizz-free. On the other hand, beer contains protein and vitamins. It moisturizes hair deeply. Make a mix of apple cider vinegar and water. Rinse the hair with this mixture after shampooing. Leave it for a few seconds, and then rinse again with normal water. You can do the same with beer as well.
Massage Hair with Aloe Vera Gel
Fresh aloe vera gel is excellent for dry hair. It moisturizes hair and makes it look soft and smooth. You can apply the gel directly on the scalp and hair strands, leave it for a few minutes or an hour, and then wash it off with mild shampoo. You can also add aloe vera gel to a hair mask to get an equally incredible result.
Lifestyle Changes for Making Hair Smooth & Healthy
Follow a healthy nutrient-rich diet
Limit smoking & alcohol consumption
Try to stay stress-free
Stop using chemical-rich hair dyes
Minimize using hair styling tools
Wear a hat or scarf to cover hair outside
Final Thoughts
Gone are the days when you used to struggle finding the best treatment for dry and dull hair. Now you know the dry hair care tips. So, taming dry and frizzy hair, and making it soft and beautiful won't be difficult for you anymore. Choose natural hair care products, eat right, and follow a healthy lifestyle. There will be nothing that can stop you from achieving frizz-free, gorgeous hair.
latest
Islanders' Favourites