7 Tips to Protect Hair Using Natural Hair Care Products in Monsoon
by Herb Island India Admin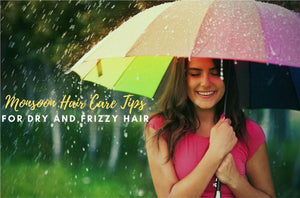 Be it going for a long drive, having a cup of tea with snacks, enjoying nature, going for bird watching, playing football in a muddy field, or having impish fun while dancing in rain, monsoon is the season when you can enjoy yourself in various ways. Though this season brings melody to most people's minds, it can cause menaces to the hair. The effects of monsoon on hair are seriously detrimental. Enjoy monsoon hair care tips in this article to get rid of frizzy hair.
But why is exactly monsoon such an unpleasant season for your hair? The answer lies in the humid atmosphere of this season. The humid weather increases moisture in the scalp, resulting in thin, dry, dull, fragile and frizzy hair. Especially monsoon in places with huge pollution has more damaging effects on hair. In polluted areas rainwater sticks to hair, causing dandruff, itchy scalp, and excessive hair loss. It also helps in fungal and bacterial infection on the scalp.
Is there any solution to take care of hair during monsoon and make it frizz-free? Actually, there is. Today you have come to the right place where we will discuss monsoon hair care tips to make your hair continue being smooth, shiny, and lustrous throughout the whole season.
So, without further ado, let's talk about hair care in monsoon.
7 Effective Tips to Maintain Hair with Natural Hair Care Products 
Having frizzy hair during monsoon is a common problem faced by many. In this rainy season, hair soaks up hydrogen, forms bonds, and expands till the smooth cuticle breaks out to make the hair frizzy. So when it comes to hair care during monsoon, you must know how to make it frizz-free. Here are the 7 most effective tips to fight frizz:
1. Massage with Ayurvedic Hair Oil
Nothing works more wonder for your hair than a good oil massage on scalp and hair. In this season, you should never forget to massage your hair with natural ayurvedic hair oil at least twice a week. Following this practice can cure hair problems like hair fall, split ends, etc., leaving you with gorgeous and beautiful hair. However, humidity and moisture in rainy season weather often make the scalp dirty and itchy. Never apply oil on a dirty scalp. Wash your hair with a mild shampoo. Apply oil on clean and dry scalp and hair to get the optimum benefits. Pick any good herbal oil, like amla oil, almond oil, olive oil, coconut oil, etc. that works best for you. Also, essential oils are extremely nourishing for hair.
2. Use Hair Mask
Having frizzy hair is a commonly faced problem during monsoon. Using a hair mask on dry hair can make it frizz-free, smooth and nourished. In humid weather, the hair mask gives extra hydration and nutrients that hair always needs. The market is filled with many hair masks,choose products which are enriched raw & fresh ingredients. Also, homemade masks work wonders on hair. From banana to methi, apple cider vinegar to yogurt, and honey - you can use basic ingredients from your kitchen and use them as a hair mask to make your hair nourished. After applying a mask, leave it for at least half an hour or more. After that, wash it off with a mild sulphate and paraben free shampoo to get the best result.
3. Keep Scalp Clean & Nourished
During monsoon, to keep sebum growth and oil secretion on the scalp in check, you must keep it properly clean. Otherwise, your hair will look flat, dull, and damaged. Also, a dirty scalp leads to dandruff, bacterial infection, and excessive hair fall. So, to stop hair fall in monsoon, you need to wash your hair with a mild sulphate and paraben antibacterial hair shampoo regularly. Also, keeping the scalp along with hair strands nourished is important for ensuring the hair's overall good health. So, nourishing it with hair oil, mask, conditioner, etc. is important.
4. Shampoo Hair More Frequently
When it comes to sharing hair care tips in rainy season, the discussion cannot be completed without mentioning that you must always keep your hair clean and dry. To do this, you need to shampoo the hair more frequently. The market is filled with many shampoos, each one claiming to be the best at making hair smooth and problem-free. But not all are good for your hair. Many shampoos consist of harsh chemicals that can damage your hair root severely. Thus, you should always choose mild natural and paraben free shampoo enriched with natural ingredients that can cleanse your hair and strengthen the root. At Herb Island, we offer 3 natural shampoos - Exotic Flowers, Forest Berries, and French Green Clay. All these products are free from sulphate, paraben, petrolatum, harmful chemicals and pesticides. Using these shampoos in monsoon will help your hair maintain its natural luster, remain revitalized, and stay hydrated.
5. Use Conditioner after Shampooing
Using conditioner is a must after shampooing your hair throughout the year. So, monsoon season is not an exception. Make sure it is applied from the mid-length of the hair to its end. The hair root should be avoided while applying hair conditioner. You can use both a live-in conditioner and a conditioner that can be washed off after a few minutes of application. Whatever type of conditioner you choose, ensure it is mild and enriched with natural ingredients. At Herb Island, the natural conditioner range includes Exotic Flowers, Forest Berry, and French Green Clay. They make hair soft and shiny by hydrating and moisturizing the strands. They also shield your hair from the damage that dirty and acidic rainwater causes.
6. Don't Forget to Apply Hair Serum
Hair serum is also an additional item that you should never forget to use after shampooing and conditioning the hair. They are suitable for all hair types, but applying a serum can work wonders especially on frizzy hair. Serum makes hair soft, smooth, and shiny for a long time. Also important for detangling hair, can be used anytime before combing hair. They act as a protective layer on the hair, saving it from the damage caused by humid weather and rainwater. Take a coin-sized amount of serum on your palm and apply it through the hair strands. Avoid the scalp while applying.
7. Rejuvenate Hair
During monsoon, moisture, sweat, and rainwater filled with pollutants are bound to affect hair. One of the best ways to combat this is to rejuvenate your hair with the right infusions. Wash your hair daily, let it dry naturally before combing, apply hair oil at least twice a week, use a hair mask, spritz herbal hair spray, and always brush the hair gently with a wide-tooth comb.
In this season all you need to do is follow the proper hair care routine on a daily basis. I know it's tough to follow a lengthy hair care routine on a daily basis in this monsoon season. But don't worries Herbisland have solution for this problem also. We offer a good monsoon hair care combo that includes ayurvedic hair oil, nourishing hair serum, natural hair shampoo and conditioner.
Extra Tips to Control Hair Fall in Rainy Season
Other than following the above-discussed hair care routine, you should also take care of a few things. Here are some more monsoon hair care tips.
i) Control Your Diet
When you are healthy from the inside, your hair and skin look healthy and beautiful from outside. To stay healthy, follow a healthy diet. Protein-rich food items, like milk, leafy vegetables, eggs, fruits, and soya are important for healthy hair. Drinking lots of water is important too. Also, avoid eating oily and junk food.
ii)Avoid Hair Styling Tools
Hair stylist tools arranged in a line on blue background[/caption]
Hairstyling tools, like a straightener, curler, etc. strip off the natural oil from hair, break down its hydrogen bonds and tear the natural keratin layer. Regular use of these heat-producing hair styling tools can damage hair. Monsoon weather already has many damaging effects on hair. So, at least during this season, do not bring any extra damaging effects on your hair by using the hair styling tools.
iii) Protect Your Hair During Rain
Whenever you go out during monsoon, if it is raining, protect your hair from the damaging effects of rainwater with an umbrella, raincoat, scarf, or hat. Even when it is not raining, always keep an umbrella or scarf in your bag while going outside.
iv) Say No to Hair Ties
Wet hair is fragile and tends to break or fall easily. Thus, never tie your hair when it is wet. Let your hair dry naturally after washing and only after that tie it.
Final thoughts,
Monsoon is the season when you can enjoy nature wholeheartedly. But with damaged hair, wholehearted enjoyment is never possible. So, do not let this season undermine the health and beauty of your hair. Following all the above-discussed tips will let you dance in the rain without feeling worried about hair damage. Follow a hair care routine, eat healthy foods and say goodbye to frizz and damage throughout the rainy season.
latest
Islanders' Favourites