7 Essential Natural Body Care Products for Winter Season
by Herb Island India Admin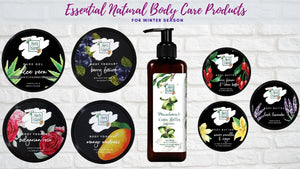 During the winter season, due to prolonged exposure to dry weather and cold air, skin starts becoming flaky, withered, and glow less. Most people only take care of their faces and protect the facial skin from harsh weather by properly moisturizing it. Therefore, in this process, mostly body skincare gets neglected.  But the truth is, body skincare is as important as facial skin care, especially during winter. And to take care of the skin, the significance of natural body care products is undeniable. Natural winter skin care products keep skin moisturized, protect it from flakiness, dryness and sagginess, and induce a healthy glow throughout the season.
In today's post, we will talk about natural winter care products that you must use to keep your skin healthy and supple during this chilly season. So, without further ado, let's talk about these.
Essential Natural Body Care Products for Winter
Below are 7 essential body care products that can keep your skin healthy and glowing throughout the winter season:
1. Moisturizing Body Wash
When it comes to picking the natural moisturizing body wash to bind hydration into the skin and keep it supple, Herb Island's Forest Berries Body Wash is the ultimate choice to have trust on.
Ingredients: Mulberry, Bearberry, Grapeseed, Aloe Vera leaf juice, Indian Gooseberry, Wheat Germ Oil, Vegetable Glycerin

Best for: All skin types
In this Winter season, use Herb Island's Forrest Berries Body Wash while having a shower to cleanse and hydrate the skin. Infused with fresh berries extract, this product is kind on skin, giving the appropriate amount of nourishment that your skin needs during dry and chilly weather. And the perk is its fruity fragrance, perfect for brightening your mood every day.
2. Body Lotion
Herb Island offers two excellent body moisturizers that vanish dryness and makes skin soft instantly.
a) Vitamin C Body Lotion
Ingredients: Ethyl Ascorbate, Shea Butter, Olive Oil, Aloe Vera leaf juice

Best for: All skin types
Packed with antioxidants, Vitamin C, and other nourishing elements, this body lotion is perfect for rejuvenating dry, flaky, spotted, and discolored skin. Our vitamin C body lotion also revitalizes sun-damaged skin and shields it from harmful UV rays even during winter.
b) Macadamia & Cocoa Butter Body Lotion
Ingredients: Macadamia Oil, Cocoa Butter, Shea Butter, Olive Oil

Best for: All skin types
Herbisland's macadamia & cocoa butter body lotion is non-greasy formula keeps the skin properly moisturized without leaving any oily effect. Use this body lotion and say goodbye to early signs of aging on the skin.
3. Body Butter
Ingredients: Shea butter, Cocoa Butter, Essential Oils, etc.

Best for: Dry and cracked skin
Use body butter to hydrate your extra dry skin. Apply it all over your body just after a shower to seal the moisture in the skin. Its oily texture nourishes the skin and keeps it soft and smooth. The nourishing elements in body butter add an extra protective layer on the skin to prevent skin damage due to cold, harsh weather.
4. Body Yoghurt
Here are 3 excellent Body Yoghurts by Herb Island to keep skin healthy from outside and deep inside:
i) Berry Fusion Body Yoghurt
Ingredients: Grapeseed, Mulberry, Bearberry, Pomegranate

Best for: All skin types
Its moisturizing ingredients hydrate and nourish skin with nature's goodness. Also, its fruity fragrance leaves your skin feels fresh and sweet-scented. With its light-weight formula,
Berry Fusion Body Yoghurt gets absorbed to the skin right after application and supplies immense hydration.
ii) Mango Madness Body Yoghurt
Ingredients: Mango Butter, Fenugreek Milk, Aloe Vera leaf juice, Shea Butter

Best for: All skin types
Mango is a nutritious fruit, loaded with vitamins, antioxidants, and other healthy nutrients. It is great for moisturizing skin, protecting the skin from sun damage and premature aging. Herb Island's Mango Madness Body Yoghurt gives you the chance to treat your skin with the goodness of mango. Regular application of this body care product keeps the skin wonderfully fragrant, hydrated and moisturized.
iii) Bulgarian Rose Body Yoghurt
Ingredients: Rose petal, Hibiscus, Aloe vera leaf juice, Shea Butter

Best for: All skin types
Infused with fresh rose, this beautifully scented body yoghurt deeply nourishes the skin and protects it from flakiness without leaving any sticky feeling. Bulgarian rose body yoghurt also protects the skin from sunburns, rashes, and premature aging.
5. Aloe Vera Gel
Herb Island offers an Aloe Vera gel packed with nature's goodness.
Ingredients: Aloe Vera, Vitamin E, Neem, Green Tea, Indian Gooseberry

Best for: Acne-prone skin
Packed with fresh aloe vera gel and vitamin E, this product works wonders on dull and dry skin. It reduces acne and maintains oil balance in the skin. Also, it deeply hydrates and moisturizes the skin. And the best thing is it is good for both body and hair. Regular application of Herb Island's Aloe Vera gel keeps skin glowing and hair soft and strong naturally.
6. Food Cream
Best for: Cracked Heels
To keep your feet hydrated and protect the heels from cracks, applying foot cream daily throughout the winter season is a must. Massage foot cream right after a shower or at night before sleeping. Wear socks after applying the cream to get the best result.
i7. Body Oil
Ingredients: plant-based oils, Vitamins

Best for: Dry skin
Body oils lock moisture into the skin for a long time. Body oil maintains moisture's healthy balance in the skin keeps it supple and makes it look and feel good. Using body oil beside lotions and moisturizers is important to ensure long-term skin health and glow. Take time to massage a natural body oil before or just after a shower; it will easily get absorbed and leave a smooth effect all over your body.
Final thoughts,
Hope, you appreciate our natural range of winter body care products. All these are free of parabens, sulfate, mineral oil, and other harsh chemicals. With these body care products, you can feed your skin the nutrients it requires to stay soft, smooth, healthy, and glowing. So, don't stop yourself from enjoying the essence of the chilly winter months. Protect your skin from the harshness of the cold weather with the right skincare products and enjoy winter to the fullest.
latest
Islanders' Favourites