10 Major Benefits of Argan Oil for Healthy Skin & Hair
by Herb Island India Admin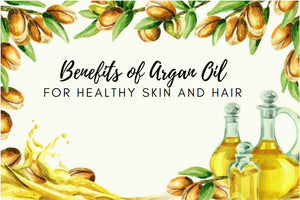 Are you looking for something that comes from nature and acts as an elixir for your skin and hair? Your search ends at argan oil. Argania is a flowering plant, originally grown in southern Morocco. Argan oil is extracted from the kernels of that tree. Argan oil is a completely natural source of vitamin E, fatty acids, and other essential ingredients that work wonder on skin, nail, and hair. Wondering how it can benefit your skin and hair? Let's have a look at some major benefits of argan oil.
How is Argan Oil Beneficial for Skin & Hair?
Needless to say, the Argan tree is an asset to Morocco. The Moroccan government has taken initiatives to preserve and maintain the argan trees in assistance with community efforts. But why? argan oil derived from the tree is extremely useful for skin and hair treatment. It has become a popular ingredient in cosmetics. Therefore the argan tree acts as an essential part of the agro-economic function in Morocco. The benefits of argan oil are many. But when it comes to nourishment and hydration of skin and hair, argan oil works simply like a magical potion.
Traditionally, argan oil is used both externally and orally to make skin and hair healthy and beautiful. There are two types of argan oil - the edible version and the cosmetic version. The cosmetic version is used topically as a skin moisturizer, hair conditioner, hair serum, etc. Genuine beauty products enriched with certified organic argan oil offer plenty of benefits to your skin and hair.
Let's discuss in detail about the top 5 benefits of argan oil for skin and hair.
[A] 5 Major Benefits of Argan Oil for Skin: 
Argan oil, with its rich ingredients, can give your skincare routine a new dimension, making skin healthy from inside and beautiful from outside. The top 5 argan oil benefits for skin are:
1. Protects Skin from Sun Damage
It is not always possible to see the immediate effect your skin gets after sun exposure. However, eventually, you will identify long-term damages, like wrinkles, hyper pigmentation, breakage, sagginess, etc. on your skin. Argan oil acts as a secret weapon to kill all these skin problems and protect it from scorching sun rays. Enriched with antioxidants, argan oil protects the skin from sunburn. Also, it helps in skin repair from sun exposure. Daily application of argan oil nourishes the skin and keeps hyper pigmentation caused by sun exposure at bay.
2. Moisturizes Skin
This is another great benefit of argan oil. Packed with vitamin E and fatty acids, this oil acts as a perfect potion for boosting skin health. If you have dry skin all year long or just in winter, give this oil a shot. It will hydrate, nourish, and moisturize your skin. Another effective way to use this oil daily is to include argan oil-infused moisturizer or cream and massage on your skin. No matter whether it is your face or body, this oil with its vitamin E and fatty acids replenishes your skin cells and makes it look lively.
3. Prevents & Reduces Stretch Marks
Having stretch marks on the skin is a common problem many people face. These occur due to a quick stretch of skin. Usually rapid weight gain or loss, pregnancy, etc. causes stretch marks. Often people find it difficult to get rid of these marks. Argan oil is the solution for them. As this oil is enriched with Vitamin E, it improves skin elasticity and thereby lightens the stretch marks. Using argan oil daily on stretch marks for a long time can bring a noticeable difference.
4. Heals Infection
Argan oil has anti-bacterial and anti-fungal components, which help in healing infection, wounds, and burns. It speeds up the healing process of any wound on the skin and prevents wounds to catch any bacterial or fungal infection. Antioxidants and vitamin E in argan oil work wonders in the healing process. You can apply argan oil on the affected area or consume argan oil supplements to get the benefits.
5. Treats Acne
Applying argan oil daily can help in treating acne and healing acne marks. It prevents skin from drying out. It helps in the repair process of the skin's hydrolipidic film. Also it helps the skin breathe and controls sebum production. By doing all these argan oil fights acne and reduces acne scars on the face. It also acts as a sunscreen for oily skin, keeping skin protected from sun exposure, oil production, clogged pores, and eventually acne.
Other than above, argan oil is useful to treat many other skin conditions, like eczema, psoriasis, etc. By revitalizing, rejuvenating, and oxygenating skin cells, argan oil keeps skin problem-free and beautiful.
[B] 5 Major Benefits of Argan Oil for Hair: 
Argan oil is equally useful for making hair healthy and beautiful too. Let's have a look at what benefits you can get by using argan oil for your hair.
I) Prevents Dandruff
Having dandruff all over the year is a common problem for many across the world. Argan oil acts as an effective solution for this problem. It is enriched with fatty acids that moisturize the scalp and reduce the occurrence of dandruff. Vitamin E in argan oil is also a moisturizing element. It has anti fungal properties that calm down fungal issues on the scalp and prevent dandruff. Moreover, the antioxidants in this oil prevent the oxidation process which usually causes inflammation and dandruff on the scalp.
II) Cures Hair Loss
Dandruff is one of the reasons for hair loss. By keeping dandruff at bay, argan oil reduces the hair loss rate. Also, some other common reasons for hair loss are anti-fungal infections on the scalp, harsh hair treatment, sun exposure, usage of hair dye, etc. Argan oil nourishes hair and keeps hair protected from all the common issues that cause hair loss. As a result, hair loss problems get cured and hair growth gets boosted.
III) Acts as Best Hair Conditioner
Argan oil, packed with Vitamin E and antioxidant properties, is important for keeping hair free from damage, frizz, and malnutrition. After washing your hair with a mild shampoo, you can apply a small quantity of a hair serum infused with certified organic argan oil on the length of your freshly washed hair to prevent splitting and breakage. As it is natural oil, it nourishes hair, smoothens it and makes it look shiny. This is perfect for managing frizzy or flyaway hair. Also, it improves hair's natural volume and waves.
IV) Prevents Heat Damage
Common reasons for heat damage of hair are excessive sun exposure, usage of heated hair styling equipment, etc. Argan oil is enriched with essential nutrients that work wonder on damaged hair. The main ingredient in argan oil is vitamin E that hair always requires in order to stay healthy. Regular application of argan oil on hair repairs heat damage and promote hair cell growth, which eventually stimulates overall hair growth. It also acts as a great moisturizer that keeps damaged hair nourished and prevents weakness and brittleness.
V) Boosts Shine
Argan oil can be easily absorbed into hair strands, thereby not leaving any greasy after effect. Being rich in fatty acids, this oil leaves a shiny effect on hair after application. Also, the oil helps hair get back its long lost luster without making it feel heavy.
After knowing all the amazing benefits that argan oil offers to hair and skin, don't you feel like including this excellent nature-extracted product to your daily beauty routine! Before that, you need to know the right way to choose the perfect argan oil for you.
[C] Choose the Best Argan Oil for Skin & Hair
The market is filled with countless argan oil-infused skin and hair care products. The list can easily make you feel confused about which one will be the best for your skin and hair. To choose a genuine argan oil product, you need to keep in mind a few things. Here these are:
a) Look for Ingredients
Before buying an argan oil product, you need to go through the ingredients list mentioned in the package. Products infused with a certified organic argan oil and use no harmful fillers like mineral oils, is the best one for you.
b) Check Packaging & Price
Poor packaging of products often signifies their poor quality. Make sure the product you are choosing is in a good bottle with a user-friendly pump cap. Production of argan oil is a time-consuming and costly affair. So, it can't be cheap. But that does not mean you should always go for expensive argan oil beauty products. Go through the ingredient list carefully; do not pay high for a product that has a low concentration of argan oil.
c) Explore Scent & Texture
A pure argan oil has a mild nutty scent that does not stay long after application because of its easy-to-be-absorbed quality. Avoid pure argan oil claiming products that have a strong artificial aroma. The texture of the genuine argan oil product is light, non-sticky, and smooth. So pick the right one after checking its scent and texture.
d) Choose Certified Manufacturer
Purchasing argan oil products from only certified manufacturers ensures their best quality. When it comes to picking a certified manufacturer, Herb Island can be trusted without a second thought. Our Moroccan Argan Oil Hair Serum is a perfect combination of argan oil, jojoba oil, and almond oil, keeping hair nourished, frizz-free, smooth, and shiny.
Final Thoughts:
Argan oil has been used for years in beauty products and medicines. It is nature's gift to keep people healthy from inside and beautiful from outside. Treating various skin and hair conditions becomes easier than ever with 100% genuine argan oil. So, choose argan oil today. Give your skin and hair a healthy boost.
latest
Islanders' Favourites